PhD Program in Humanities and Social Sciences at IITs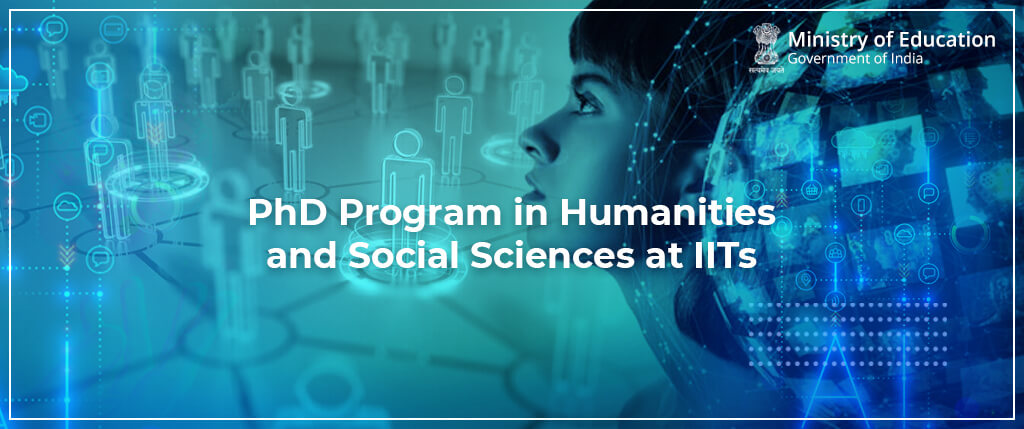 Overview
 The Department of Humanities & Social Sciences at various IITs offers a Ph.D. program in different academic disciplines such as English, Economics, Philosophy, Psychology and Sociology, Fine Arts, Linguistics, Policy, History, Archaeology, Political Science, Geography, Development Studies, etc. The Department's curricula aligned with its academic vision aim to cultivate critical and innovative thinking and impart training required to carry out the highest level of multi-disciplinary research. To fulfill its teaching and research goals, the Department has competent faculty members in diverse areas who keep pace with the current developments in their fields of specialization.
Apart from the facilities made available to all students at the Institute level, at the department level, the students have access to the resources available in the Department's Library, Computer Labs, etc. The departments also house teaching laboratories such as Language laboratory, Behavioural and Cognitive Science laboratory, Econometrics laboratory, Psychology laboratory, and more. These laboratories help students improve their language and communication skills, train students in subjects like psychology and other allied behavioral sciences, etc. A good library is always the nucleus of a vibrant research ethos. These Departments have their own library with an outstanding collection of books and journals that help strengthen the research of students and faculty members.
Research Areas in Humanities & Social Sciences at IITs
Research in Humanities & Social Sciences at IITs covers all the areas of English, Philosophy, Psychology, Sociology, Fine Arts, etc. The core areas of research are:
English
Cognitive Linguistics, Pragmatics, American Literature, Critical and Literary Theory, Postcolonial Theory and Literature, Indian literature and literary theory, Translation Studies, Literary Censorship, Postmodern Theory and Literature, The Anthropocene Literature, Climate Fiction, and Cli-Fi Films, Cyberpunk and Biopunk, Critical Theory, Cybercriticism, Ecocriticism, Language Documentation And Description, Linguistic Typology, Historical Linguistics, Postcolonial Literature, Indian Writings in English, Life Writings, English Language Teaching, Applied Cognitive Linguistics, Curriculum, and Syllabus Design, Linguistics, Language Variation, History of Film Theory, Aesthetic Politics, World Cinema, Critical Theory
Fine Arts
Visual and Media Arts, Design, Visual Culture, Frugal Innovation, Visual thinking, Art history, Graphic Art, Painting, Studio Art practices, Art History, Art Appreciation, Visual Culture, Cinema Studies, New-Media & Mixed-Media Art, Calligraphy, Oil Painting, Sculpture
 Philosophy
Logic, Formal Epistemology, General Philosophy of Science, Philosophy of Cognitive Science, Aesthetics, Philosophy and Literature, Phenomenology, Existentialism, Hermeneutics, Gandhi Studies, Ethics, Social and Political Philosophy, Philosophy of Mind, Evolutionary Epistemology, Philosophy of Science (Biology), Cognition, Creativity
Psychology
Health Psychology, Social Representations, Illness Narratives, Social Cognition, Organizational Cognition, Cognitive Neuropsychology, Affective Processes, Psychological Assessment, Trauma Psychology, Applied Social Psychology, Disaster Mental Health, Qualitative Methodology, Cognitive Psychology, Cognitive Science, Cognitive Science, Embodied Cognition, Action, Agency, and Self
Sociology
Social Demography, Rural Development, Social Statistics, Sociology of Science and Technology, Sociology of Development, Social Movements, Human Rights, Social Movements, Law and Governance, Sociology of Religion, Sociology of Law, Economic Sociology, Sociology of Work, New Media Studies (identification, everyday use), Social Geography, Sociology of Money, Environmental Sociology, Social Network Analysis
The Department of Humanities & Social Sciences at the Indian Institutes of Technology in Delhi, Bombay, Madras, Kanpur, Kharagpur, Roorkee, and Guwahati provides an outstanding research environment complemented by excellence in teaching. All other IITs also offer excellent research programs in Humanities & Social Sciences.