Research opportunities in Textile Engineering at IITs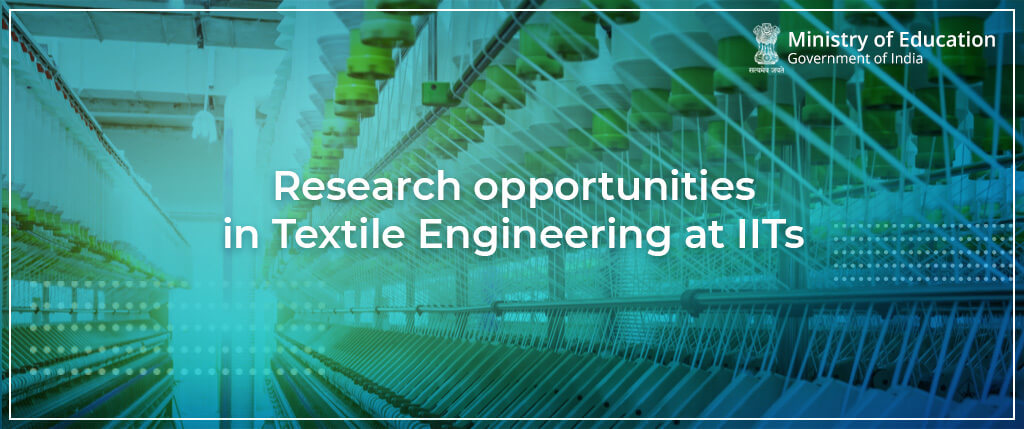 What is Textile and Fibre Engineering
Textile is an umbrella term that includes a diverse range of materials, including fibres, yarns and fabrics, and other related items. Textile engineering is an extensive research field of technology that deals with all activities of producing textile fabric & yarns involved in the textile manufacturing process. The technology and science in textile engineering comprise designing and controlling all aspects of fibre, textile & apparel processes, fibre, clothing products, and machinery. Textile Engineering is in growing demand due to diverse cultures and traditions around the world, and it is one of the most popular disciplines in engineering/technology. Textile engineers are involved in many aspects of textile manufacturing, from process engineering, R&D, production control, technical sales, quality control, and types of equipment to procedures that create all these fibres, fabrics, and yarns.
Textile Engineering Research at IITs
Indian Institutes of Technology (IITs)are world-renowned for science and engineering education and research. IITs have a rich global reputation for the quality of their students and faculty members. The institutes continue to provide science and technology leaders for India and the world. Many IITs offer BTech, Dual Degree, MTech and Doctoral/PhD programmes in textile engineering. Textile engineering departments at IITs have extremely dynamic faculty and well-experienced support staff having strong research interests in traditional and emerging areas of textile engineering. The departments have state-of-the-art experimental and computational facilities through funding from the Ministry of Science and Technology and research projects from other sources.
In these departments, a vibrant research profile is maintained, emphasizing problem-solving through interdisciplinary research that crosses barriers across various science and engineering disciplines. These departments have tie-ups with several universities in India and abroad. Numerous overseas exchange programmes are available to equip the students with the all-important integrative skills, global experience and personal network developments. All these are designed to prepare students for lifelong enriching career and leadership opportunities.
Research Areas
The research areas are focused on niche and futuristic areas, such as technical and smart textiles, nanotechnology applications, bio-textiles, engineering of functional apparel, etc. Major research areas include:
Fibre Science & Technology, Simulation &Modelling, Structural Mechanics of Fibrous assemblies, Electrospinning, Nano and Innovative materials for textile applications, Smart Textiles, Natural fibres, Nonwovens and Technical Textiles, Polymers: Plasma Functionalization of polymers, Intelligent Polymers & Fibres, Polymer Crystallization, Polymer Nanotechnology, Polymeric Composites, Biodegradable Polymers, Nanocomposites, Environmental and Ecological issues in Textiles, Mechanics of Yarns & Machines, Texturing, Garment Tech., Clothing comfort, Functional clothing, Product development, Soft Computing Applications, Production and Operations Management, Tissue Engineering, Medical Textiles, Surgical Oncology, Polymeric nano-materials for Biomedical applications etc.
Textile engineering departments of IITs provide unique, interdisciplinary opportunities for research on experimental, theoretical and application aspects for challenging engineering problems with far-reaching impact. In addition to the textile engineering departments at IITs, various other science and engineering departments such as chemistry, biology, materials science, and chemical, mechanical, applied mechanics, metallurgy, and polymer engineering at different IITs also offer research programs in textile engineering.