10 Reasons Why You Should Pursue A PhD Abroad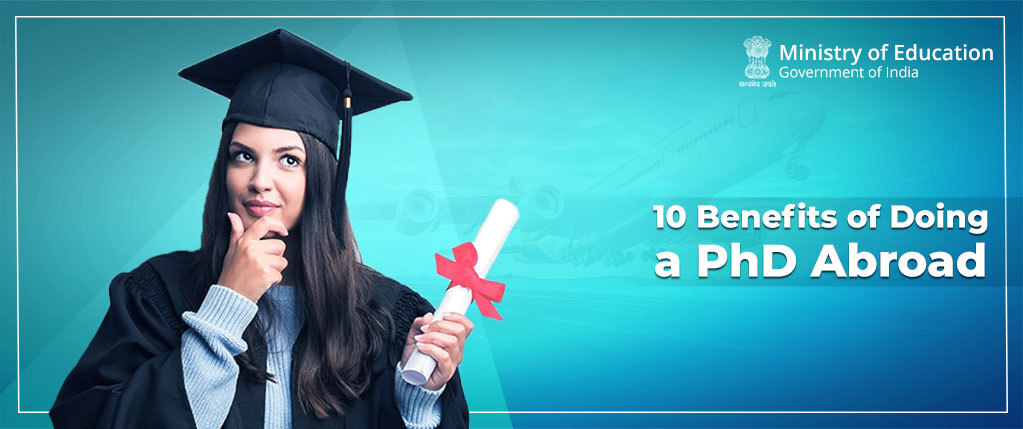 Your career plans after your master's degree is an important decision to make. A PhD is the best choice if you are interested in exploring new areas of research and education.
For every aspiring student, the inspirations differ for choosing to do a doctoral programme. For a few, it could be a learning experience and for others, it could be an opportunity to explore a topic that they are passionate about.
If you want to study and explore the areas of your interest, then PhD is the best option for you. PhD helps to develop your knowledge in new areas and fields, explore new ideas, and to learn new skills. Above all, when you pursue your PhD abroad, it can open new doors for you.
10 Benefits of Doing a PhD Abroad
PhD has its own advantages for an individual in terms of career perspective as well as personal growth. But when you decide to do your PhD abroad, then it guarantees other benefits as mentioned below.
1) Explore New Opportunities
When you decide to pursue your PhD in a new country, it increases your exposure to new opportunities, new experiences, meet new people, and live a new life!
When you start your doctoral research in a new country, it opens tons of possibilities for learning new skills, languages and developing new interests.
2) Scholarships & Funds
The scholarship is another benefit you get when you choose to study abroad. Global universities provide scholarships and fellowships to international students.
These fellowships, like the Doctoral Fellowship in India For ASEAN, can also help you save your tuition fees. You also become eligible to apply for various health care discounts and avail other concessions while studying abroad.
3) Explore New Country Culture
Different countries have different traditions and cultures! The best part of studying in a different country helps you explore new cultures, new learning opportunities, and meet new people. It gives you a global perspective of different cultures.
4) Make Connections in a New Country
Studying abroad gives you a golden opportunity to widen your network. You get a chance to meet new people and learn their perspective of doing things.
Once you go back home after completing your PhD, these connections can help you in terms of guidance, or any other support in your field of research.
Apply for a PhD at IITs
Apply for a PhD at IITs — the best technology institutions of India
5) Better Understanding of New Education Systems
Education systems vary from country to country and different education systems have different learning styles.
You get the exposure to new teaching and learning methods if you choose to pursue your PhD abroad. You also can discover new specializations which might not be available in your home country.
6) Learn From Best Faculty Around The World
You get the chance to learn from experienced faculty members when you apply to a global university.
Professionals within your research field can help and guide you with your research thesis and help you succeed in your doctoral research.
7) Choose From Variety of Research Programmes
Studying abroad opens a plethora of options of universities for the research program of your choice and interest.
Global universities provide a variety of doctoral research opportunities. It can add a new dimension to your research paper and help you discover new innovations in your field.
8) Perks of Good Infrastructure
Depending on the country and university you choose, you can get the advantage of good infrastructure and advanced technology.
Advanced infrastructure facilities at your college campus improve the quality of your education, research and your life as a PhD researcher.
9) Improved Living Standard
When you start your research in a new country, you can experience a new culture and improve your lifestyle.
It also gives you a whole new perspective of living amongst new traditions and culture. You will meet a lot of new people from different societies that influence your worldview.
10) More Employment Opportunities
After completing your PhD from a well-known global university, multiple employment opportunities will be open to you.
Whether you want to join a foreign university to pursue an academic career or to work at an organization, there are tons of opportunities that will be waiting for you.
The skills you develop while studying abroad may also be valued highly by your future employers.
Ready To Start Your PhD Abroad?
It is an exciting journey to pursue a PhD abroad, but it requires pre-planning and research.
There are personal as well as professional benefits of studying abroad. While studying abroad, you can live and enjoy a different lifestyle and explore new research opportunities.
It will not only help you build knowledge in your research area but will also help you learn new lessons in life.
You can discover a new world of possibilities if you use the opportunity to better understand a foreign culture. You'll see an improvement in yourself as you start to adapt and work through the new challenges of living in a new country. You will realize that you have become a problem-solver and a positive thinker. Doing a PhD abroad can be an all-new experience for you!
Consider pursuing a PhD in India at the Indian Institute of Technology. Check the Doctoral Programme in India for ASEAN for more details.