Guide for Cambodian Students Seeking Phd Programme in India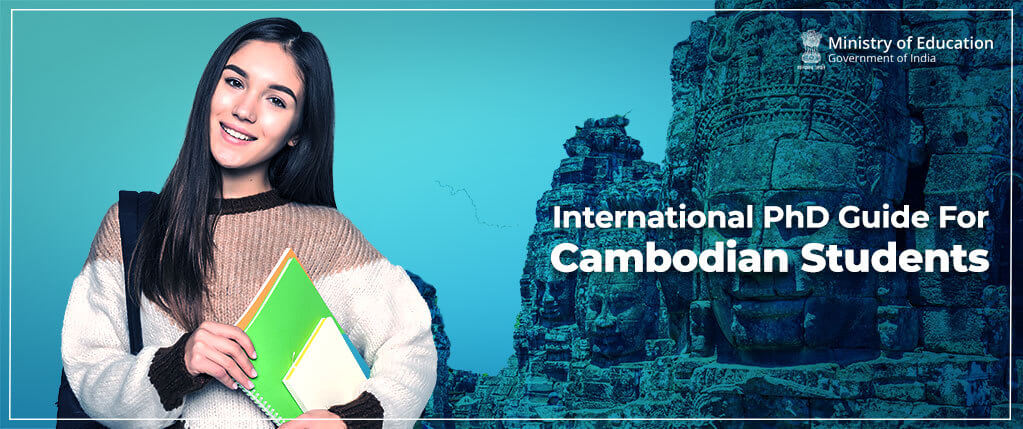 Indian higher education system is the second largest in the world. That makes it one of preferred choices for higher education, including PhD programmes for students, especially the asian students. 
Students who aspire to pursue a PhD in India are unaware of the process involved in getting accepted to a PhD Fellowship programme in India and the process of moving to India for education.
We have created this guide to help PhD applicants from Cambodia learn everything they need to know about moving to and studying in India. 
Getting a PhD in India:
India is the preferred destination for aspiring international PhD students due to the simple application process, affordable education opportunities, and great cultural experiences. 
There are over 950 universities in India spread throughout the country. Most are renowned for preparing students to succeed at international corporations and to build a strong global reputation.
Doctoral Fellowship in India For ASEAN:
The Indian Institutes of Technology (IITs) are inviting scholars from ASEAN countries to apply for PhD fellowships to strengthen the deep and historical relations between India and ASEAN. The Government of India will provide the funding that includes a monthly stipend and an annual research grant for up to 5 years of your Ph.D. program.
Why Pursue PhD Programme at IIT:
IIT is a preferred destination for students from several countries to pursue higher education in India with academic excellence and specialization in diverse fields. 
A PhD programme at IIT is a golden opportunity for aspiring researchers to learn from world-class experts in a range of subjects. You can learn more why you should pursue a PhD at IIT here.
Eligibility Criteria To Get Accepted Into PhD Fellowship Programme 
The most important criterion for admission into IITs is academic performance. Eligibility can vary slightly from institution to institution, but minimum requirements, such as the M.Tech or any other master's degree in a specific field are more or less standardized.  
An average score of at least 55% or an equivalent percentage, is the minimum qualification for admission to an Indian PhD program.
It will also be required that candidates have the language required skills for their course.
Apply for a PhD at IITs
Apply for a PhD at IITs — the best technology institutions of India
Is PhD Good for a Teacher or Adjunct Professor?
If you are a teacher or adjunct professor, and you are interested in becoming a professor in Cambodia, then a PhD is a must. 
Most colleges have a mandatory requirement of a PhD to be eligible for a full-time position in your specific field of interest.
The esteem and respect you receive after achieving a PhD degree are far more than a designation. It means you have the knowledge and experience to be the leader that you facilitate to your students.  
The Process of Applying for a PhD Programme in India 
All Cambodian students applying for PhD Programme in Indian educational institutions should take due care to ensure that adequate authorization and capabilities are available for the institutions in which they are enrolling. 
First visit the Doctoral Fellowship Online Application page and complete the application process. Once you get accepted, you'll receive all details about the programme. 
Applying for a Student Visa for Your PhD Programme In India
Applicants must have travel documents and also carry all necessary documents regarding their study plans, accommodation, financial support, health insurance arrangements, etc.
The University or Institution in India where admission is aimed must be identified clearly for the Student Visa. In addition, the student's original admission letter must be sent directly to the Embassy by the university. 
The applicant must share a receipt for the payment of the fee and receive the original certificates certified by the Ministry of Foreign Affairs and International Cooperation, Kingdom of Cambodia. 
How to Fly from Cambodia to India?
The fastest flight from Cambodia to India is from Phnom Penh to New Delhi, with an average flight time of 6h 55m.
AirAsia, SriLankan Airlines, and Singapore Airlines are the most common airlines flying from Cambodia to India.
The average flight price from Cambodia to India is ₹ 18,258 or ៛ 1023717.36 approximately.
Your PhD Researcher Life In India:
During your PhD programme at IITs, you'll reside at IIT campuses. They are like a small township with all the amenities required to make your life as a researcher easy. You can know all about your residential life at IIT here. 
Start Your PhD In India Today
Your journey as a PhD researcher in India will be an exciting experience. Apply for a PhD fellowship programme today. Learn more about the PhD programme here.