Guide for Indonesian Students Seeking PhD Programme in India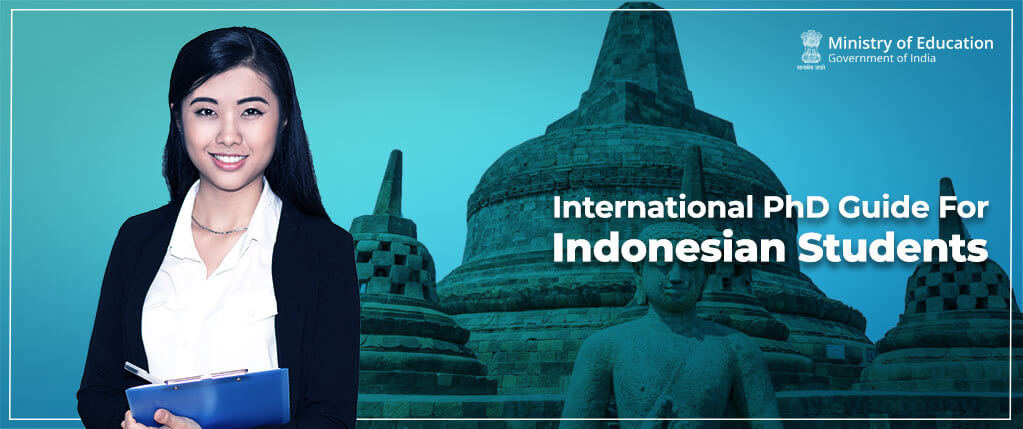 Every student wishes to continue their education at a prestigious university somewhere in the world.
International students prefer Indian higher education because of its educational excellence and excellent faculty. In India's educational system, every student has the opportunity to succeed academically and gain knowledge in their chosen fields of study.
Due to its easy application process, affordable access to education, and diverse culture to explore, India is the best choice for aspiring Ph.D. students, especially Asian students.
The country opens its door for Indonesian students to get enrolled in the Doctoral Fellowship in India for ASEAN. The program offers the best scholarships and financial funding to international students, especially those from ASEAN.
This guide is designed to assist Ph.D. applicants from Indonesia in learning what they need to know about moving to India and studying there.
Ph.D. in India for International Students:
India will prove to be a cost-effective and livable location for you to complete your Ph.D. India's people are welcoming and courteous and are eager to learn more about other countries.
Indian universities are well-known for training students to excel in international companies and retain a positive international image.
Doctoral Fellowship in India For ASEAN:
The Government of India (GOI) developed the ASEAN Ph.D. Fellowship program to encourage students from ASEAN countries to pursue higher education and study. Students in this program can research at the Indian Institute of Technology (IIT). 
This fellowship is open to only 1000 students from ASEAN countries who wish to pursue a Ph.D. program in India at one of the 23 IITs. The program also provides the researcher with the necessary support for up to five years, as well as a stipend to cover their living expenses.
Why Choose IIT for a Ph.D. Program:
IIT is a top destination for students from Asian countries like Indonesia who want to pursue higher education, especially Ph.D. in India with academic excellence and specialization in a variety of fields.
The Indian Institutes of Technology (IITs) are autonomous public technical and research universities located throughout the country.
The Ph.D. program at IIT offers emerging researchers a once-in-a-lifetime opportunity to learn from world-class experts in several fields. Learning at IIT is a perfect choice because of academic excellence, the ability to work with excellent IIT teachers, and the impressive extracurriculars. To read more about why you should pursue a Ph.D. at IIT, click here. 
Eligibility Criteria To Get Accepted Into Ph.D. Fellowship Programme 
To apply for the Doctoral-fellowship in India for ASEAN, applicants need to apply online via our IIT portal. You will be able to choose a specific program as well as one of the 23 IITs to attend during this process.
Your application will be screened, and you will be shortlisted for an online interview with the appropriate IIT. Following that, the institutes announce their admissions process, including the waitlist.
While eligibility differs by institution, certain minimum qualifications, such as an M.Tech or other master's degree, are more or less mandatory. An average score of at least 55% or an equivalent percentage, is the minimum qualification for admission to an Indian Ph.D. program. Candidates must also have the language skills needed for their course.
Apply for a PhD at IITs
Apply for a PhD at IITs — the best technology institutions of India
Is Ph.D. Good for a Teacher or Adjunct Professor?
If you are a teacher or adjunct professor, and you are interested in becoming a professor in Indonesia, then a Ph.D. is a must. 
In most universities, Ph.D. is a mandatory requirement to be eligible for a full-time position in your specific field of interest.
The respect and admiration you will receive as a result of earning a Ph.D. degree are far more than a title. It implies that you have the skills and experience necessary to serve as a leader for your students.
A Ph.D. needs several years of dedication, hard work, and living expenses. However, the confidence and appreciation you will obtain as a result of earning a Ph.D. degree are much more than a title.
The Process of Applying for a Ph.D. Program in India 
Indonesian students who wish to apply for Doctoral-fellowship in India for ASEAN should double-check that the institutions they are enrolling in are authorized and competent.
To begin, go to the Online Doctoral Fellowship Application page and complete the form. Once you've registered, you'll receive all of the information you need about the Doctoral-fellowship in India for ASEAN.
Applying for a Student Visa for Your Ph.D. Program In India
Following an agreement between the two countries in 2018 to boost people's exchange and mobility, Indonesian students can now visit India more easily to complete their higher education.
Applicants from Indonesia must carry valid travel documentation as well as all required documents related to their study plans, housing, financial support/scholarship, and health insurance arrangements.
Students who have not yet been admitted to an Indian school will apply for a three-month provisional visa. To receive a provisional visa, a letter from the host institution confirming the student's application is required.
How to Fly from Indonesia to India?
The fastest flight from Indonesia to India is from Bali to New Delhi, with an average flight time of 9h 35m.
Lion Air, Jetstar Asia Airways, Etihad Airways, and Singapore Airlines are the most common airlines flying from Indonesia to India.
The average flight price from Indonesia to India is ₹ 20,000 or Rp 3956472.00 approximately.
Your Ph.D. Researcher Life In India:
IITs have large well-equipped campuses with a welcoming atmosphere. They're built to look like a small township, complete with all of the amenities you'll need to make your life as a researcher as easy as possible.
Campus Life hosts many events and programs that help students relax and foster a sense of belonging. Find out more about IIT's residential life here.
Start Your Ph.D. In India Today
Are you ready to begin your Ph.D. through the Doctoral-fellowship in India for ASEAN?
India opens the door to a plethora of lucrative job prospects. It will be an exciting experience to study and live in such a diverse country with so many opportunities. Apply for a Ph.D. fellowship program today. Learn more about the Ph.D. program here.