Guide for Philippines Students Seeking PhD Programme in India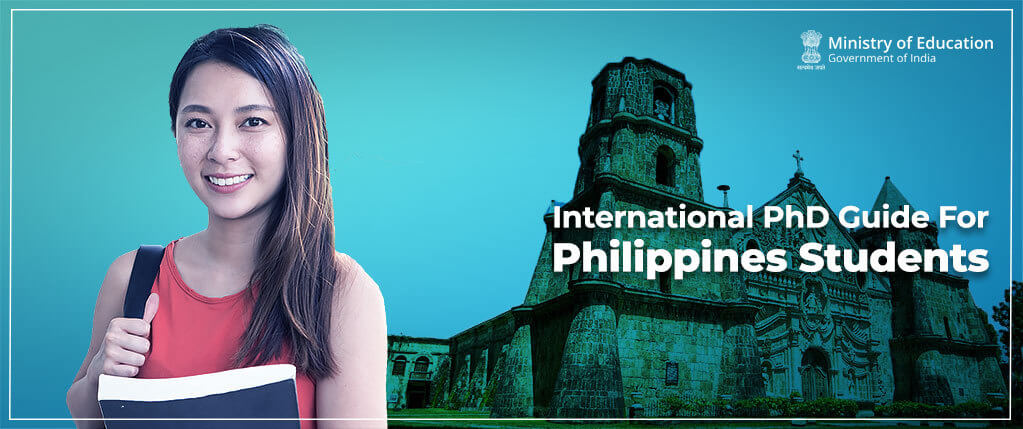 With the world's second-largest higher education system, India is an ideal destination for foreign students interested in pursuing a PhD program. As a result, it is one of the most popular options for higher education, including PhD programs for students, especially Asian students.
Students interested in pursuing a PhD in India are unfamiliar with the procedures for applying to and being admitted into a PhD Fellowship program in India, as well as the procedures for coming to India for education.
This guide is designed to assist Philippines PhD applicants in learning everything they need to know about travelling to and studying in India.
Starting a PhD in India:
With the easy application process, affordable education opportunities, and great cultural experiences, India is the chosen destination for aspiring foreign PhD students.
In India, there are over 950 universities spread across the country. The majority of them are known for training students to succeed in foreign companies and to establish a strong global reputation.
Doctoral Fellowship in India For ASEAN:
The Doctoral Fellowship in India for ASEAN is developed by the Government of India (GOI) to encourage students from ASEAN countries such as Philippines to pursue higher education.
Students in this program will obtain their PhD and conduct research at the Indian Institute of Technology (IIT), the world's most prestigious university.
The Government of India will provide the funding that includes a monthly stipend and an annual research grant for up to 5 years of your PhD program.
Why Pursue PhD Programme at IIT:
Students from all over the world who want to pursue higher education in India with academic excellence and specialization in a variety of fields should consider IIT.
Students at Indian universities, especially the Indian Institute of Technology, have been offered PhD fellowships by the Indian government. 
A PhD program at IIT provides aspiring researchers with a rare opportunity to learn from world-class researchers. A PhD program at IIT offers young researchers a valuable opportunity to learn from world-class experts in a variety of fields. More information on why you should pursue a PhD at IIT can be found here.
Eligibility Criteria To Get Accepted Into PhD Fellowship Programme 
Academic performance is the most crucial requirement for admission to IITs. While eligibility varies slightly by the institution, minimum qualifications, such as an M.Tech or other master's degree in a particular area, are more or less compulsory.
An average score of at least 55% or an equivalent percentage, is the minimum qualification for admission to an Indian PhD program. Candidates would also be expected to have the necessary language skills for their course.
Apply for a PhD at IITs
Apply for a PhD at IITs — the best technology institutions of India
Is PhD Good for a Teacher or Adjunct Professor?
A PhD is required and mandatory if you are a teacher or adjunct professor interested in becoming a professor in the Philippines.
To be qualified for a full-time position in your field of interest, most colleges demand that you have a PhD.
It takes several years of commitment, hard work, and living expenses to earn a PhD. The respect and appreciation you will receive as a result of receiving a PhD degree are far more than a title. 
It implies that you have the skills and experience necessary to serve as a leader for your students.
The Process of Applying for a PhD Programme in India 
Students from the Philippines applying for PhD programs in Indian educational institutions should make certain that the institutions they are enrolling in have sufficient authorization and capabilities.
Next, go to the Doctoral Fellowship Online Application page and fill out the form. You'll get all the information about the Doctoral-fellowship in India for ASEAN once you've filled the form and registered.
Applying for a Student Visa for Your PhD Programme In India
Applicants must have travel documentation as well as all required documents of their study plans, housing, financial support, and health insurance arrangements, among other things.
For the Student Visa for applicants from the Philippines, the University or Institution in India to which admission is sought must be clearly defined. Also, the university must send the student's original acceptance letter directly to the Embassy.
How to Fly from the Philippines to India?
The fastest flight from the Philippines to India is from Manila to Hyderabad, with an average flight time of 7h 55m.
SilkAir, AirAsia, Air India Express are the most common airlines flying from the Philippines to India.
The average flight price from the Philippines to India is ₹ 25535.98 or ₱16,998 approximately.
Your PhD Researcher Life In India:
You will live at IIT campuses for the duration of your PhD program. They resemble a small township, complete with all of the facilities necessary to make your life as a researcher as simple as possible. 
The academic program at IITs is a major part of the experience and students are also encouraged to engage in a range of extracurricular activities provided by the Institutes. You can know all about your residential life at IIT here. 
Start Your PhD In India Today
Start your PhD in India and open the door to promising career opportunities. Your journey as a PhD researcher in India will be an exciting experience.  Learn more about the PhD programme here.