Guide for Vietnamese Students Seeking PhD Programme in India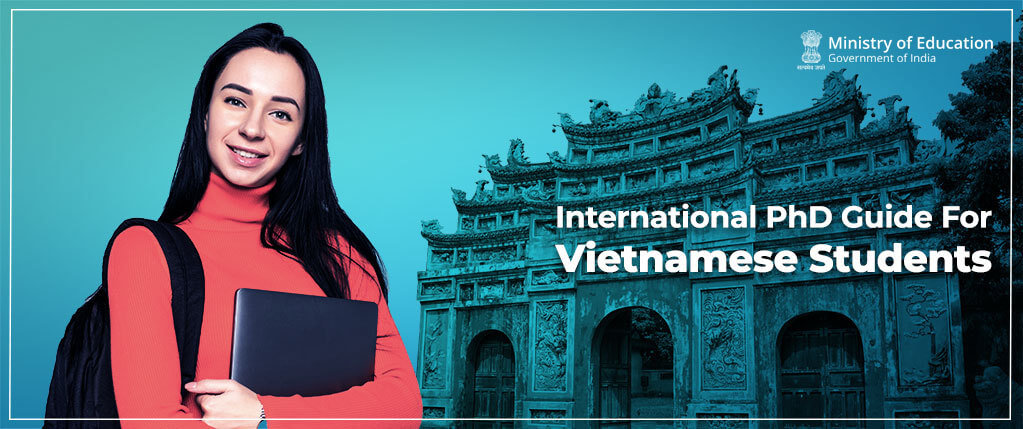 India is a perfect destination for international students to pursue a PhD programme with the second-largest higher education system in the world. That makes it one of the preferred choices for higher education, including PhD programmes for students, especially Asian students. 
Ambassador of Vietnam to India Ton Sinh Thanh has encouraged Vietnamese students to study in India to better understand the South Asian nation and contribute to the two countries' productive ties. He encouraged Vietnamese youths to participate in the Doctoral Fellowship in India for ASEAN, emphasizing that India is offering many scholarships to international students, especially those from ASEAN.
We have created this guide to help PhD applicants from Vietnam learn everything they need to know about moving to and studying in India. 
PhD in India for International Students:
With an easy application process, affordable education opportunities, and great cultural experiences, India is the chosen destination for aspiring PhD students all over the world.
In India, there are over 950 universities nationwide. The majority of them are known for preparing students to succeed in foreign companies and to maintain a good global reputation.
Doctoral Fellowship in India For ASEAN:
The Government of India (GOI) created the Doctoral-fellowship in India for ASEAN to encourage students from ASEAN countries like Vietnam to pursue higher education. 
Students in this program have the opportunity to study for their PhD and conduct research at the Indian Institute of Technology (IIT), the most renowned university in the world. 
The Government of India will provide the funding that includes a monthly stipend and an annual research grant for up to 5 years of your PhD program.
Why Choose IIT for a PhD Programme:
IIT is a wise option for students from around the world who want to pursue higher education in India with academic excellence and specialization in a variety of fields.
The government of India has offered PhD fellowship to students at Indian universities, specifically at the Indian Institute of Technology. You can learn more about why you should pursue a PhD at IIT here.
Eligibility Criteria To Get Accepted Into PhD Fellowship Programme 
Applicants for the Doctoral-fellowship in India for ASEAN must apply online via our IIT portal. During this process, you will be able to select a specific program as well as which of the 23 IITs you wish to attend.
While eligibility varies slightly by the institution, minimum qualifications, such as an M.Tech or other master's degree are more or less compulsory.
An average score of at least 55% or an equivalent percentage, is the minimum qualification for admission to an Indian PhD program. Candidates would also be expected to have the necessary language skills for their course.
Apply for a PhD at IITs
Apply for a PhD at IITs — the best technology institutions of India
Is PhD Good for a Teacher or Adjunct Professor?
If you are a teacher or adjunct professor, and you are interested in becoming a professor in Vietnam, then a PhD is a must. 
Most of the universities have made it compulsory to have a PhD degree to be eligible for a full-time position in your specific field of interest.
It takes several years of commitment, hard work, and living expenses to earn a PhD. But the esteem and respect you receive after achieving a PhD degree are far more than a designation. It means you have the knowledge and experience to be the leader that you facilitate to your students.  
The Process of Applying for a PhD Programme in India 
All Vietnamese students applying for PhD programs in Indian educational institutions should make certain that the institutions they are enrolling to  have sufficient authorization and capabilities.
First, go to the Doctoral Fellowship Online Application page and fill out the form. You'll get all the information about the Doctoral-fellowship in India for ASEAN once you register.
Applying for a Student Visa for Your PhD Programme In India
Applicants must have travel documentation as well as all required documents of their study plans, housing, financial support, and health insurance arrangements.
For the Student Visa for Vietnamese, the University or Institution in India to which admission is sought must be clearly defined. Also, the university must send the student's original acceptance letter directly to the Embassy.
For the duration of their studies in India, Vietnamese students are granted a multiple-entry visa. To obtain a student visa to study at an Indian institute, you must have a letter from their host institution. If you're applying for a tourist visa, keep in mind that the duration of the visa begins on the day it's released, not when you arrive in India.
A three-month provisional visa is valid for students who have not yet been admitted to a school in India. A letter from the host institution confirming the student's application is required in this case to obtain a provisional visa.
How to Fly from Vietnam to India?
The fastest flight from Vietnam to India is from  Ho Chi Minh City to Bangalore, with an average flight time of 7h 30m.
Philippine Airlines, Thai AirAsia, and Vietnam Airlines are the most common airlines flying from Vietnam to India.
The average flight price from Vietnam to India is ₹ 12,000 or ₫ 3805163.13 approximately.
Your PhD Researcher Life In India:
At IITs, the academic curriculum forms a large part of the experience. The Institutes also provide a variety of extracurricular activities that students are encouraged to participate in. 
It means that you obtain an all-round education and not limited to academic achievements alone. You can know all about your residential life at IIT here. 
Start Your PhD In India Today
Start your PhD in India and open the door to promising career opportunities. Your journey as a PhD researcher in India will be an exciting experience. Apply for a PhD fellowship programme today. Learn more about the PhD programme here.