Important Things To Consider About Pursuing PhD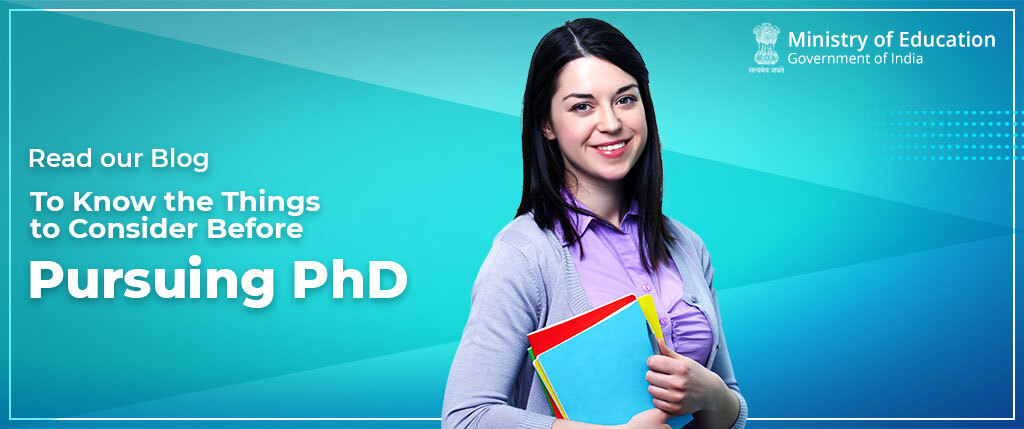 A PhD is an academic degree that's conferred upon a student who has completed advanced studies in a specialized field. The PhD degree requires a lot of research and study in the chosen field, hard work and dedication. With an insightful research paper, a PhD gives you an opportunity to contribute towards the subject. Thus, you must decide wisely and then pick a topic of your choice and research for your PhD thesis.
If you are deciding on pursuing a PhD, it's imperative to be clear on the goal you want to achieve and the path or specialization you want to choose.
It is a time-consuming and exhaustive process to pursue a PhD, and there are many essential things you must consider before starting your PhD programme. 
Know All About The PhD Programmes 
Before starting the PhD programme, you must gather information about different programmes and institutes that offer PhD.
Search actively for information from your guardians, your teachers, the Internet, and your seniors or peers who are in your preferred PhD programme or recently completed their PhD. Guidance from these people will help you better understand the programme, thereby enabling you to choose the right programme.
Select a Topic for Your PhD 
It may seem easy, but selecting an appropriate topic for your PhD programme is a challenging task. Choose the topic based on your area of interest. Make a list of topics and then select the best based on some research and study.
Your work must reflect the authenticity of research and your interest involved in the topic. Once you find such a topic that best fits your interest and you feel inclined towards pursuing a PhD in that topic, only then finalize that as your research topic. 
Apply for a PhD at IITs
Apply for a PhD at IITs — the best technology institutions of India
Develop Essential Skills To Stand Out as a PhD Student
Before pursuing your PhD programme, you must develop a set of skills to prepare for your research and thesis. Here are a few skills that will help you excel as a PhD student:
Analytical Skills
Problem-solving Skills
Management & Organization of Projects 
Written & Oral Communication
Interpersonal & Leadership Skills
Research & Information Management
Critical Thinking Skills
Time Management Skills
Research About Institutions Offering PhD Programmes 
The best strategy to select an institute may not always be the academics instead focus on the most valuable aspect of a PhD. The result of your thesis is the most essential element you have to consider. 
India offers various PhD programmes to Indian and international students with the best of the infrastructure and research facilities. Choosing India as your PhD destination means not only great opportunities but also an insightful experience with a diverse range of cultures and people.
PhD at IITs creates great experiences for students in terms of study as well as campus facilities, apart from being one of the best PhD education centres worldwide. If you are looking for an affordable choice for your PhD programme, PhD in India is ideal for you.
Ready to Apply for the PhD Programme? 
While applying for a PhD Programme, make an informed decision by considering the above points, including the research topic. Despite all the challenges and hard work, what will matter in the end is the final outcome of your research. Stay focused and motivated throughout your PhD journey!