Mechanical Engineering Research at IIT Delhi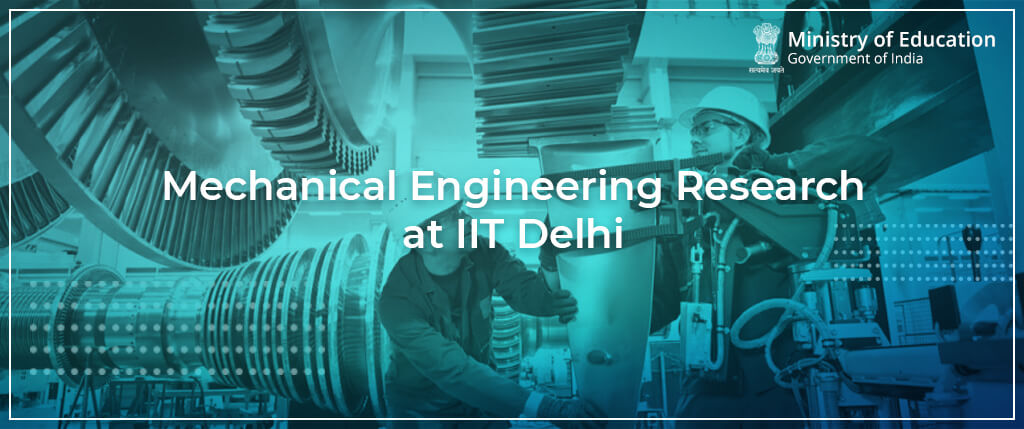 What is Mechanical Engineering
Mechanical Engineering (ME) is the branch of engineering that combines physics, mathematics, engineering principles with materials science. This field aims at designing, analysing, manufacturing and maintaining mechanical systems. Mechanical Engineers work in virtually every industry and are instrumental in creating technologies to meet human needs. They design efficient motor vehicles, aircraft, manufacturing units, complex machinery systems, engines, power equipment etc. Disciplines within mechanical engineering include but are not limited to Manufacturing, Mechanics, Production Planning, Robotics, Structural analysis, Composites, Nanotechnology, Thermal Engineering, Acoustics, Aerospace, Biotechnology, Ergonomics, Human health, Automation, Automotive, Energy, Design, Autonomous Systems, Computer-Aided Design (CAD), Control Systems, Cyber security, etc.
Mechanical Engineering at IIT Delhi
IIT Delhi is internationally recognized for delivering excellent scientific and technical education at the undergraduate and postgraduate levels while endeavouring to become a great research institution. IIT Delhi was ranked first among engineering colleges in India for 2020 by India Today. The institute was also ranked second among engineering colleges by the National Institutional Ranking Framework (NIRF) in 2020 and third overall. IIT Delhi has achieved the rank of 47 in the QS Asia University Rankings 2021.
IIT Delhimechanical engineering is the top-ranked mechanical engineering program in the country and consistently ranks in the world's top 100. The ME department is one of the oldest and biggest departments of the institute. The department offers B.Tech., M.Tech., M.S. (Research) and PhD degree programs. The department is equipped with state-of-the-art laboratories; and infrastructure, laboratory facilities are upgraded from time to time to cater to the existing and future needs. The department has highly qualified and committed faculty who engage in cutting edge research in their area of research specialisation.
The faculty members are well recognized both nationally and internationally.
The ME department worked towards the development of many new innovative products. The department collaborates with many national and international institutions and organizations. These collaborations are in the form of faculty exchange, student exchange, joint curricula development projects and collaborative research & development projects.
Research at ME department of IIT Delhi
The ME department of IIT Delhi is involved in active research in almost all frontier areas of Mechanical Engineering. The Faculty members, researchers and students have achieved national and international accolades for high impact research. In addition, they are involved in interdisciplinary research collaborations with various departments and research centres both within and beyond the institute.
Broad research areas in the ME department are
Mechanical Vibrations, Rotor Dynamics, Damped Structures, Composite Structures, Smart structures, Active Vibration Control, Experimental Modal Analysis & Identification, Structural Dynamic Modification, Finite Element Model Updating, Dynamic Design, Noise Engineering, Condition Monitoring, Bearing Dynamics, Lubrication, Mechanical System Design, Computer-Aided Mechanical Design, Computer Controlled Mechanisms, Vehicle Dynamics, Modelling the Impact of Vehicles, Impact Biomechanics, Concurrent Engineering Design, Mechanisms, Robotics, Multibody Dynamics, Application of Multibody Dynamics in Design and analysis of Rural Engineering Systems, Mechatronics, Sensors and Actuator Design, MEMS, Design of Microsystems, Nano-mechanics, Artificial Intelligence Applications in Mechanical Engineering & Expert Systems for Design & manufacturing and Mechanical Engineering Applications to Medical Science.
Internal Combustions Engines, Phenomenological and Multi-dimensional modelling of engines, Combustion, Radiation from flames, Engine Simulation, Turbocharging, Combustion Generated Pollution, Alternate Fuels, Utilization of biogas, Biomass gasification, Energy-efficient kilns, Energy flow through radial rectilinear cascades, Centrifugal and axial compressors Internal flow and Laser anemometry, Optimization of power plants, Sustainable Energy Systems, Computer Simulation and Design of Thermal Systems, Refrigeration & Air Conditioning Systems, Thermal Comfort, Fire Research, Air Water Spray Injection, Waste Heat Utilization, Energy Conservation, Renewable Energy Sources, Heat Transfer, High-temperature natural convection Microchannel Heat Exchangers, Particle-laden Flow, Fluid Mechanics & Machines, Turbulence Computational Fluid Dynamics (CFD) Turbomachines, Energy Storage Devices, Microfluidics, Flapping Wing Aerodynamics.
Metal Cutting, Metal Forming, Welding, Metal Casting, Material Characterization, Non-traditional Manufacturing Processes, Measurements & Metrology, Grinding of Ceramics and Metal Matrix Composites, Processing of Polymers & Composites, Injection Moulding, Microcellular Injection moulding, Finite Element Applications in Manufacturing, CAD/CAM, Rapid Prototyping, Intelligent Manufacturing, Micro & Nano-Manufacturing, Biomaterials and Medical Implants, Nanocomposites, Modelling of Material Behaviour, Lean concepts in Machine Tool Design.
Industrial Quality Control, Quality, Reliability and Maintenance, Lean Manufacturing, Productivity Management, Queuing, Systems Simulation, Simulation Dynamics, Operations Research & Management, Production & Materials Management, Project Management, Total Quality Management, Supply Chain Management, Computer Integrated Manufacturing Systems, Business Process Reengineering, Applied Probabilities, Facilities Planning, Enterprise Modelling, Information Systems, Decision Support Systems, Value Engineering, Flexible Systems, Healthcare Systems, Education Systems, Agile Manufacturing Systems, ERP, CIMS and Beyond, Enterprise Modelling, Enterprise Architecture, Extended Enterprises, Decision-Information Synchronization in Flexible Systems, Concurrent Planning, Methodology of Enterprise Modelling, Intelligent Manufacturing Systems, Knowledge Management, e-business, IT effectiveness in Enterprise Systems
In recent years, there has been a significant improvement in research output, which is made possible through liberal grants provided by the institute administration and resources generated by faculty from funding sources outside the institute. Department faculty are actively engaged in carrying out sponsored research work with funding from many national and international funding agencies which include the Department of Science & Technology (DST), Department of Biotechnology (DBT), Indian Council of Medical Research (ICMR), Defence Research Development Organization (DRDO), Indian Space Research Organization (ISRO), European Commission, Naval Science & Technology Laboratory (NSTL), UK-Indian Education and Research Initiative (UKIERI), etc. Department faculty takes up many industrial consultancy projects annually. Over the last decade, the department has seen a significant increase in research projects, product development activities, and PhD programmes enrolments.
If you want to pursue a career in mechanical engineering and associate yourself with exciting and challenging research, apply to the Mechanical Engineering department of IIT Delhi.