Research and Technology Development for the rural sector at IITs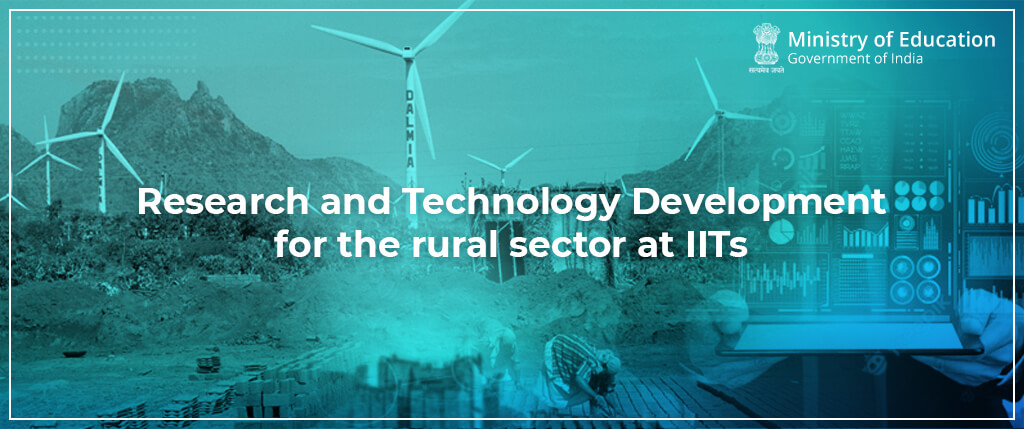 With a population of 136.64 crores, India is the world's second-most populous country. It is the seventh-largest country in the world, with an area of 32.876 lakh sq. km. It is home to vast agro-ecological diversity. Agriculture, with its allied sectors, is the largest source of livelihood in India, where 70 percent of the rural households depend primarily on agriculture. India is the world's largest producer of milk, pulses and jute, and ranks as the second-largest producer of rice, wheat, sugarcane, groundnut, vegetables, fruit and cotton. It is also one of the leading producers of spices, fish, poultry, livestock and plantation crops.
The rural population of India constitutes 66% of the total population. Sustainable rural development is vital to the economic, social and environmental viability of nations. Therefore, rapid development and empowerment of the rural population is a matter of high priority. Technology improves the quality of life, especially for the poor and disadvantaged, by permitting more and better services. Advances in technology are often linked to increased levels of income, which can improve living conditions and long-term prospects in rural India. Through appropriate demand-driven technological interventions, more rural employment opportunities can be created thereby improving our rural economy.
Rural technology support is critical for realizing the vast potential of the rural farm and non-farm sectors. Rural Technology Action Group (RuTAG) is an initiative conceptualized by the Office of the Principal Scientific Advisor (PSA) to the Government of India in 2003-04 with an aim to provide a higher level of science and technology intervention and support for development and dissemination of appropriate demand technologies for rural areas. RuTAG is centred in eight IITs (Bombay, Delhi, Guwahati, Kanpur, Kharagpur, Madras, Roorkee, Ropar).
There are several organizations in India, both public and private, that do Research and Development for the rural sector. This includes the well-known Indian Institutes of Technology (IITs). They encourage the development of technologies and technology-based solutions appropriate for the rural sector. IITs promote positive change by adopting innovations, translating innovations into viable products and taking them to market, encouraging grassroots innovation and helping in bringing equitable growth through the application of technology.
Centre for Rural Development and Technology, IIT Delhi
Centre for Rural Development and Technology (CRDT) is one of the renowned academic units of IIT Delhi. It came into existence in 1979 with the aim of becoming an outreach centre of IIT Delhi to address challenges faced by rural communities and to improve their quality of life. It has made significant contributions by developing and transferring technologies in areas including algal bioenergy, biomass technologies, biogas technologies, ecological sanitation, food quality and safety, sustainable agriculture, sustainable housing, value-added food products, water and waste management etc.
Faculty members and research teams at CRDT work in various areas for improving living conditions and generating livelihood through the synergy of S&T interventions and Traditional Knowledge. CRDT plays a lead role in coordinating pan-India initiatives such as the Unnat Bharat Abhiyan (UBA). The centre is well equipped with state of the art research equipment as well as a Field Research Station (Mahatma Gandhi GramodayaParisar).CRDT is always on the lookout for prospective doctoral fellows and research scholars enthusiastic for research and development in technologies focused on the growth of rural areas.
Centre for Rural Development and Innovative Sustainable Technology, IIT Kharagpur
The Centre for Rural Development and Innovative Sustainable Technology (CRDIST) is a multidisciplinary centre driven by young and experienced faculty members working in varied domains pertinent to the rural sectors. The centre has made significant achievements in Intensive Crop Farming, Forestry, Horticulture, NTFP-based crafts, Women and Child Welfare programmes etc.
The infrastructure includes Chemical & Bio-chemical Laboratory, Repair & Fabrication Shop, Experimental Farm & Medicinal Plant Nursery, Field Station & Crafts Training Centres at Kharikamathani and Khariduara Mushroom Shed & Apiary Unit. The centre offers electives for UG, PG students and runs regular PhD programmes with an aspiration to provide the students with exposure to rural context and technological solutions.
Centre for Technology Alternatives for Rural Areas, IIT Bombay
Centre for Technology Alternatives for Rural Areas (CTARA) is an independent centre at IIT Bombay started in 1985 with the purpose to sensitize technical professionals to the problems of rural India. CTARA has an MTech and a PhD Program in Technology and Development since 2007. Students have different undergrad backgrounds like mechanical, civil, electrical, electronics, agriculture etc. The students of CTARA are trained in qualitative and quantitative research methodology, policy aspects and devising appropriate technology with a strong focus on its dissemination to the masses.
School of Agro and Rural Technology, IIT Guwahati
School of Agro and Rural Technology (SART) at IIT Guwahati was established in2016 to promote multidisciplinary activities. The centre imparts teaching, conduct research and provide consultancy in various facets of rural sectors. Faculty members from different departments of the institute are associated with the centre for the promotion of interdisciplinary research for rural development. The centre has two academic programmes – PhD and MTech.
Centre for Rural Development and Technology, IIT Indore
Centre for Rural Development and Technology (CRDT) came into existence to become an outreach centre of IIT Indore to address community challenges faced by rural areas and improve their quality of life. It has aimed for significant contributions of developing and transferring technologies in rural construction, ecological sanitation, and safety, sustainable agriculture-based technologies, sustainable community centres, biomass technologies, value-added products, skill development of rural people, waste management etc. It aims to encourage the students and faculty members to work in research areas of rural contexts and transfer the developed technology to relevant stakeholders.