Research opportunities in Civil Engineering at IITs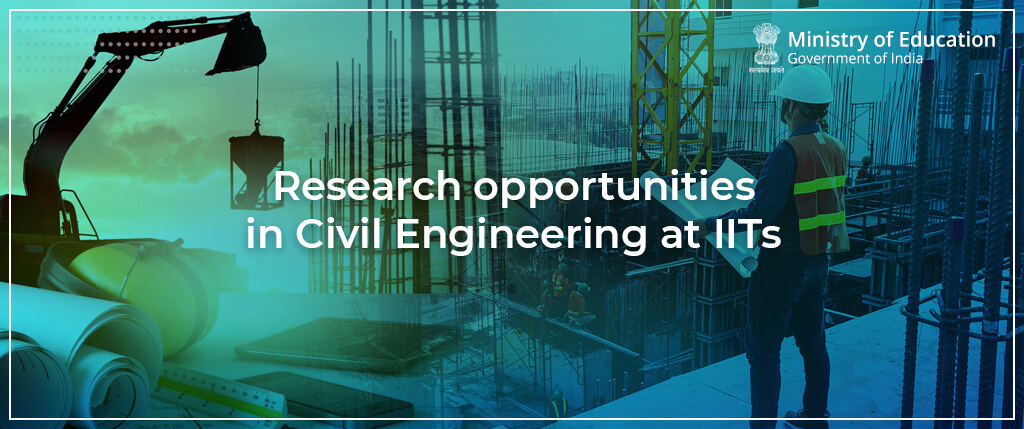 What is Civil Engineering
Civil Engineering is the application of science and technology to the planning, design, analysis, construction, operation, and maintenance of the physical facilities required by society. Out of all branches of engineering, Civil Engineering is the one that is directly associated with the welfare of society. Civil Engineering is arguably the oldest engineering discipline. It is the broadest of all engineering professions, encompassing activities from aerospace to urban planning. Indeed, the term "civil" in civil engineering refers to the discipline's involvement in public works, including buildings, military bases, mass transit systems (i.e., highways, railways, airports, and waterways), water treatment works, waste management, irrigation etc. In recent years civil engineering has adapted to consider many contemporary environmental concerns, helping to address issues of pollution and scarce water supplies while considering the potential of sustainable energy within the industry. It's an industry that perpetually adapts to the demands and desires of society. Civil engineering has a long history and a bright future because it serves the basic needs of society.
Sub-disciplines of Civil Engineering
There are a number of sub-disciplines within the broad field of civil engineering. They are
Structural engineering
Structural engineering is the art and science of planning, analysis, design and construction of structural systems. Buildings, bridges, stadiums, off-shore and other civil facilities define the traditional core focus of structural engineers. Structural engineering can also extend to the design of large, complex systems, including power plants, pipelines, aerospace vehicles and ships-submarines. Research areas in structural engineering include structural dynamics and control; earthquake engineering and seismic risk management; computational solid and fluid mechanics; design of steel, concrete, masonry, timber and composite structures; vibrations; structural health monitoring and damage detection; finite element analysis; composite mechanics; advanced and smart materials etc. Structural engineering is a broad discipline offering challenging opportunities in a diversity of career paths.
Transportation engineering
Transportation engineering involves the planning, design, construction, operation and maintenance of large scales transportation facilities such as highways, airports, railways, harbours, pipelines and public transit systems. Some of the thrust areas of transportation engineering are traffic engineering; road materials and pavement; simulations; urban roads and highway safety; transportation planning etc.
Environmental engineering
Environmental engineering focuses on the interface between human society and the environment. The field addresses a wide range of natural and manmade problems related to water, air, and land. Broad areas of environmental engineering include air quality management and control; environmental system modelling; solid and hazardous waste management; water and wastewater treatment, reuse, management etc.
Water Resources Engineering
Water resources engineering deals with the planning, design, operation, and management of surface and groundwater systems, preservation and enhancement of the natural river and watershed environment, design and construction of water control facilities, and conservation of water resources. Different research areas include groundwater utilization, management and remediation; groundwater pollution investigation; computational fluid dynamics; watershed management; application of numerical methods; sedimentation in channels and rivers; urban water infrastructure management; planning and management of the hydrologic environment in response to human impact and potential global climate changes etc.
Construction Engineering and Management
The construction engineering and management area of study prepare students to manage the design, construction and operation of sustainable buildings and infrastructure systems in the increasingly global construction industry. It includes construction materials; concrete technology; construction process modelling, simulation and integration; mineral and chemical admixtures; rheology and particle packing of cement-based materials; construction management; infrastructure project management, construction equipment, methods and safety; building information modelling; sustainable construction materials, etc.
Construction/Building Materials
Building materials deals with the detailed study of the construction materials, i.e., origin, fabrication, manufacture, types, properties, functional advantages, limitations etc. It gives a comprehensive understanding of the composition, microstructure, and engineering behaviour of materials used in civil engineering applications. Some of the research areas of the construction materials include composition, microstructure and performance of cementitious materials; shrinkage, creep and thermal change of concrete; durability, sustainability, non-destructive testing, sensing and imaging of construction materials and structures; rheology of fresh mixtures etc.
Geotechnical engineering
Geotechnical engineering focuses on the behaviour of earth materials such as soil and rock. It deals with the use of natural material such as soil and rock in combination with engineered material such as concrete, steel and geosynthetics, in the design of dams, tunnels, on-shore and off-shore reclamation for airports, landfills, deep excavations, and foundations for structures of all kinds. Different research areas include environmental geotechnology; industrial waste disposal and utilization; earthquake geotechnical engineering; soil-structure interaction problems; foundation engineering; soil reinforcements; geosynthetics; slope stabilization; ground improvement etc.
Civil Engineering research at IITs
Indian Institutes of Technology (IITs) are committed to excellence in all spheres of their activities, including education, research, and public service. They offer world-class undergraduate and postgraduate education, research guidance, professional consultancy, outreach and manpower training, and leadership in Civil Engineering. The faculty in Civil Engineering comes with academic training from various reputed institutes in India and abroad. The diverse background of the faculty helps to bring in different perspectives to teaching and research to the students in Civil Engineering.
The Civil Engineering Department at all IITs does research in challenging engineering problems and provide efficient engineering solutions in the various sub-disciplines of Civil Engineering such as Structural Engineering, Transportation Engineering, Geotechnical Engineering, Water Resources Engineering, Environmental Engineering, Construction Engineering and Management etc. The civil engineering Department at IITs has PhD programmes in all these research areas along with its traditional BTech and MTech Programmes in Civil Engineering. They are actively involved in basic and applied research and consultancy and provide high-quality technical advisory support through various R & D projects and consultancy to multiple organizations.