Top 11 Careers Paths For PhD Graduates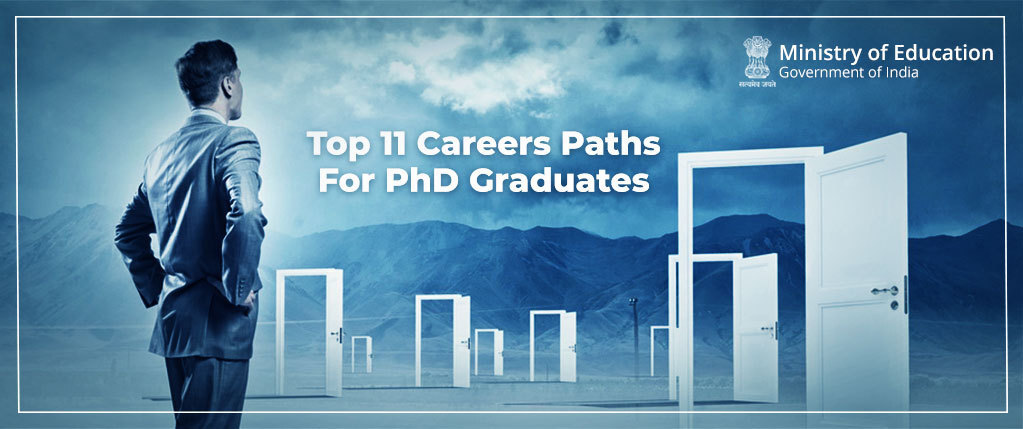 Do you wonder what career options you have after pursuing a PhD? You are willing to dedicate your life to pursuing your doctoral research programme; however, have you planned on what to do after you earn a PhD?
Your subject and research topic makes it easy for you to select a career path from the wide variety of options available in the job market.
Doctoral graduates have great advantages since their career choices are not limited to academia as there are other fields where you can start your career post-PhD. Below is the list of the top 11 career paths available for PhD graduates.
List of Top 11 Careers Paths
1. College/University Professor
The most common and popular job which a PhD graduate selects is the role of a University Professor, who is responsible for teaching students in a specific field of study.
When you pursue a PhD, you acquire the technical expertise and knowledge in the field through the research you conduct in specific fields and the research papers you publish. You may then seek a career at a university that is private or government-based. After a few years, you could also become a Head of Department in a specific field.
2. Business Development Manager
There are also industry-based jobs where a PhD graduate can build his/her career. One of the best jobs is of a Business Development Manager.
Your knowledge of a technical industry due to your PhD will help you immensely in business development.
3. Competitive Intelligence Analyst
Competitive intelligence is a rising area that allows companies to predict what their rivals are planning to do and what strategies or policies are working for them.
The competitive intelligence analyst's main task is to look for details about the competitiveness of an organization.
In this role, your PhD experience helps you a lot to analyze the data you have obtained from a number of sources and make recommendations about how the organization can move forward in the future.
4. Market Research Analyst
In order to make sound decisions and execute successful strategies, a rising number of businesses across diverse industries depend on market analysis. As a result, the market research analyst position is imperative in many enterprises.
The competence of a PhD to analyze large quantities of data and recognize the relative benefits of technologies is very useful and make them ideal for this position.
Apply for a PhD at IITs
Apply for a PhD at IITs — the best technology institutions of India
5. Technical Writer
You probably might have not heard of the technical writing profession. But after you finish your PhD, you become eligible to step into the profession of a technical writer. Essentially, technical writing is a concept that encompasses anything from writing to editing, interpreting technical concepts, which you already have had hands-on experience during your doctoral research.
6. Industry Researcher
After doing a PhD, it is a great opportunity for you to become an Industry Researcher who typically works for data analysis or research companies or agencies.
Based on the nature, market, and intent of data analysis, there are a variety of techniques you can use. In this competitive market, every organization needs an Industry Researcher to help them get ahead of competitors.
7. Government Policy Advisor
Most of the PhD graduates have an academic dream of making their career in the government sector.
It is the duty of Policy Advisors to provide guidance on legal and supervisory matters. In order to create, promote, and enforce policies, you have to work with policy experts in collecting relevant data.
You have to formulate new procedures and strategies and make sure that these measures ensure compliance with the law. You can use your PhD skills to perform a thorough study of precedent and potential strategies for a number of topics.
8. International Development
Working in a wide variety of fields and studying PhD, international development personnel is another option where you provide assistance to nations across the globe. This job encompasses many areas, including safety concerns, healthcare, wellness, education, and civil rights.
Under international development, there are several distinct positions, like governance, financing, education, healthcare, and product development.
Specialization in all of these areas and an awareness of international development problems are important to seeking employment in this field.
9. Learning Consultant
After completing your PhD, it is one of the best career paths to become a Learning Consultant. As a Learning Consultant, you have to share your expert advice with your clients mainly in the field of education.
Businesses that provide training programmes require learning consultants. A learning consultant knows every detail about the company, its products, and its customers. Your main role as a consultant is to help the organizations grow and increase their revenue.
10. Academic Publisher
As a PhD graduate, if you are interested in publishing and academia, then you can be perfectly qualified for the job of Academic Publishing.
The main task for you as an academic publisher is to facilitate adequate verification of research discoveries by enabling the review process of the publishers.
You also have to certify the research findings and publish them in the appropriate journals and ensure that these results are distributed and archived in association with educational institutions or college libraries.
11.Research Investigator
A research investigator has to collect information for different objectives, verifying that the data is accurate.
Research investigators create a detailed framework for the data collection practices, ensuring performance credibility, and maintaining data security.
It can be an ideal career option for a PhD graduate as most of their time is spent in the studying subjects to prepare their research paper.
Make A Wise Choice
Once you have done your research about the different career options available, you can make a wise choice.
There are a lot of job opportunities open after completing your PhD. You can definitely start your career in the field of your choice. The best part is that your job options are not limited to academia, as there are so many opportunities in the non-academic field.