Why PhDs Are Good For Individuals And For A Country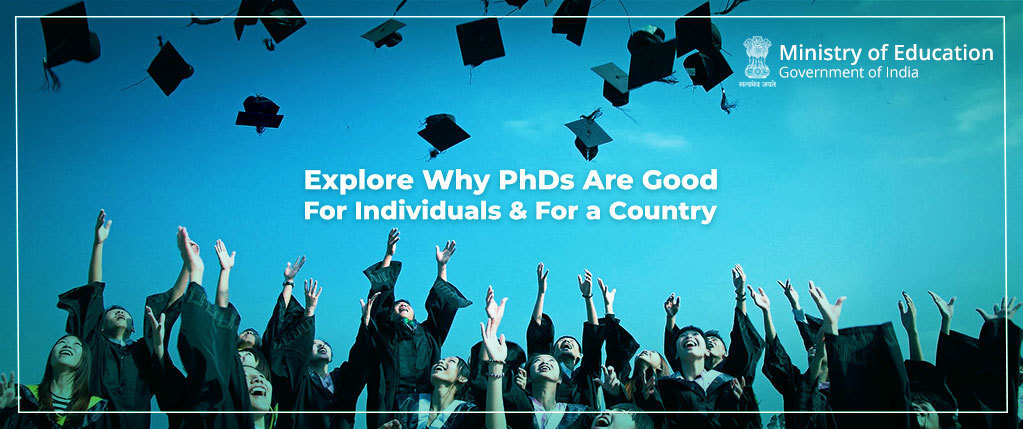 Should I pursue a PhD is a question that many students ask themselves while considering their future after graduation! That's a normal question, as one invests years of his or her time in doctoral research.
Most PhD graduates you know or the ones pursuing it might be planning to apply in universities as a professor in academic research, science, or any other field. But there is a lot more to consider when it comes to opting for a PhD.
A PhD degree holds high value in the job market as well as in the research world. After completing your PhD, you not only are proud of your research paper but also become a major contributor to your country's research. Your research project can also change someone's life or it might bring an innovative approach to doing certain things.
Reasons Why PhDs Are Good For Individuals & For a Country
1. Incorporate Innovation As a Way Of Live
PhD gives you a chance to discover new things through research in your field of study.
It also helps in personality development when you experience new challenges, explore new solutions and implement them.
2. Develop New Skills & Meet New People
The world of PhD opens the door for new skill sets. During your doctoral research process, you also improve your communication skills. There are days when you become a problem solver and develop analytical skills while pursuing your PhD.
Since your research experience involves industrial tours and trips, you meet new people where you start getting better with communication.
3. Explore Great Career Opportunities
There are multiple opportunities to build your career after a PhD. The very first of them is Academia, which most of the PhD holders choose due to the growth opportunities and flexibility of work.
The landscape of employment is vast for PhD students in most countries. A PhD holder is qualified for any industry position. Many organizations look for PhD candidates for analytical roles for problem-solving and research departments.
4. Research in Various Fields
You are not restricted to limited research topics and fields when you are doing a PhD. It gives you the entire freedom to choose the topic of your interest and complete your research paper as you want.
When you start researching, you can explore different topics of your interest and learn a variety of new concepts and explore theories which give you relevant knowledge and insights.
5. Explore New Technologies & Innovations
While doing your research, you get to know about innovations in your field of study. This helps you discover new technologies and developments in the world. Once you complete your research, you can also support your nation with your study.
Apply for a PhD at IITs
Apply for a PhD at IITs — the best technology institutions of India
6. Making Contribution For Your Society
A Doctor of Philosophy (PhD) degree validates the holder as a scholar and specialist with comprehensive knowledge and a wide variety of marketable skills.
PhD graduates can make substantial contributions to the world of academia and bring a significant change in society.
7. Learn How To Manage Tasks & Teams Together
If someone is working on a research topic similar or related to yours, then you all can work together and help each other to achieve the end goal of the research.
From the beginning, when you choose your research topic till the end of your PhD, you get to manage various tasks. This exposure helps you develop project management and team management skills.
8. Develop a Sense of Responsibility
When doing your PhD, you handle different projects and presentations that help you enhance your team building and communication skills.
It helps you develop a sense of responsibility, especially when doing your PhD at an international university.
9. Travel Around The World For Field Trips and Industrial Visits
As you start your PhD, you get a chance to travel beyond your comfort zone or to another country where you can experience new things.
Sometimes you have to travel with your professors and classmates. These trips are beneficial to learn about new cultures or languages that will make you knowledgeable about various things around the globe.
10. Get The Joy of Learning What You Want
PhD is one such degree of education that allows you to study what you want!
If you choose a field of interest, you will be able to experience the pleasure of your PhD journey.
It will help you to expand your areas of expertise that you are fascinated about and discover opportunities that you've never explored. You will be recognized as a thought leader with your published research paper serving as a document to answer queries of other researchers in your field.
Ready to Apply For PhD?
Take a moment and evaluate all the advantages a PhD offers you and your community. PhD enables you to investigate a field of work that you truly enjoy. And, you will be a master in your subject at the end of three or four years.
Apply for a PhD at IITs — the best technology institutions of India. Explore the Doctoral Programme in India for ASEAN for more details.